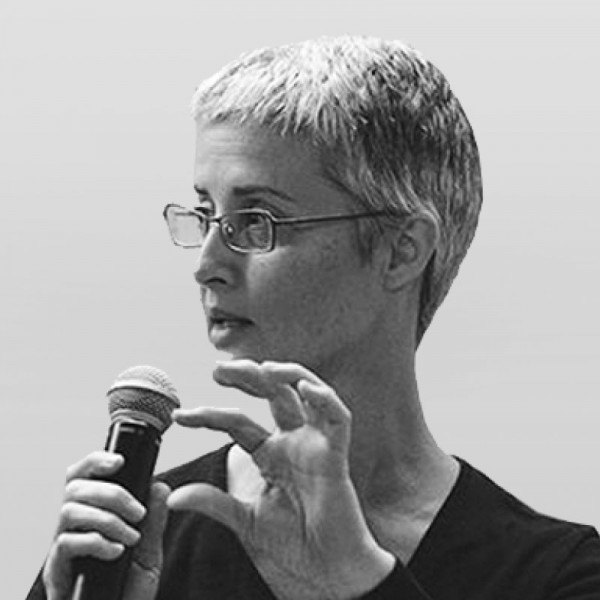 Eva María Alvarez Isidro
ES
C/ Inmaculada 6 | 46183 L'Eliana
EVA M. ÁLVAREZ ISIDRO
Architect at carlos gomez+eva alvarez arquitectes
Associate Professor of the Department of Projects Universitat Politècnica de València
1963 Born in Santa Cruz de La Palma, S/C Tenerife (Spain)
1991 Architect, Final Degree Project with distinction.
1991 Founder of carlos gomez+eva alvarez arquitectes
2016 Doctorate Cum Laude with the thesis Women in architecture. 1975, 2015
IAWA Milka Bliznakov Research Award 2019

She has been Vice-Director of International Affairs at the School of Architecture of the Universitat Politècnica de València (2014-2016) and is currently Deputy Director of Research at the UPV Department of Architectural Projects. She has directed AULAhna, an agreement between hna (insurance group) and the UPV (2014-2019). Since 1995 she has taught studio courses at the UPV and has been a lecturer at the Leibniz University of Hannover, Architectural Association of London, TU Berlin, BOKU of Vienna, Sapienza Universitá di Roma and IUAV of Venice. Together with Carlos Gómez, she has designed several buildings including the Massanassa Auditorium and the Massanassa Town Hall. More recently, the firm has been involved in incorporating the gender perspective in the planning of cities such as Castelló, Valencia and Benissa. The Generalitat Valenciana has awarded this work in 2017. Together with Carlos Gómez, she has also written a "Guide to incorporate the gender approach in planning in the Valencian Community". She participated in the II Biennial of the Canary Islands in 2009 and has lectured and written extensively on gender mainstreaming and feminism in architecture and urban planning. Together with Carlos Gómez, she has also curated the international exhibition 'On Stage! Women and Men in Landscape, Architecture and Planning' in Hannover (2011), Valencia (2012) and Vienna (2014). In 2018, also together with Carlos Gómez, she was invited to participate in the Venice Biennale 2018 Spain Pavilion Architecture Encounter with the event 'free[LEARNING]space' where they could mix learning spaces and gender approach. Between 2019 and 2022, they have been participants in the European funded project YesWePlan! Promoting Women in architecture and Civil Engineering. In 2019, they won the Milka Bliznakov research award and in 2022, both have participated in a workshop on gender mainstreaming on the Virginia Tech campus, as well as in the "Breaking Through" symposium of the IAWA International Archive of Women in Architecture also at Virginia Tech. In addition, they were invited to participate in the AIA symposium in Silicon Valley in collaboration with the Women in Architecture group of the SAH Society of Architectural Historians, developing specific aspects of the work of architect Susana Torre. They are currently working on a commission from the EIB European Investment Bank to incorporate a gender perspective in AUMSA Valencia's social housing development.